About Conference
The
Cancer Conference
will cover an entire spectrum of Cancer containing prevention, diagnosis and treatment, toxicities of therapy, supportive care, quality-of-life, and survivorship issues in the field of Cancer. This summit will provide clinicians and researchers with a platform to disseminate their personal experiences to a wider public as well as to know interesting cases encountered by colleagues all over the world.
Cancer Summit 2019 has over 16 tracks and 22 sessions designed to offer a comprehensive outlook that addresses current issues in Cancer research and treatment; Speakers are allocated specific slots corresponding to their session.
The abstract/s can be submitted online under Submit Abstract in Homepage or through e-mail at cancer@alliedscholars.com

The completed registration/s is/are to be received per attendee and the corresponding payment in Dollar by the given deadlines. Please note that the registrations are available on-site too. But, we strongly emphasize to register in advance rather spot registration.
| | |
| --- | --- |
| Abstract submission site opens | October 1, 2018 |
| Abstract submission deadline | February 24, 2019, 11:59p.m. Pacific time |
| Late-breaking abstract submission site opens | March 01, 2019 |
Outstanding Young Researcher Awards:

Each year, the Allied Academies offers the following merit-based award to support select trainees with high-achieving annual meeting abstracts who are selected to present their work at the Allied Academies annual meeting. Trainees include those who fall within one of the following categories: Graduates, Post Graduates and Research Scholars.
Key-dates | Abstract Submission | Registration Guidelines
Cancer Summit 2019 will showcase the recent discoveries/advances performed towards the treatment of cancer. The conference will provide with an exceptional opportunity for the delegates from Universities and Institutes to interact with world-class Scientists and Industry Professionals working in the field of cancer/oncology. It is a perfect platform to share knowledge to the implementation of those researchers to acquire seamless treatment procedures.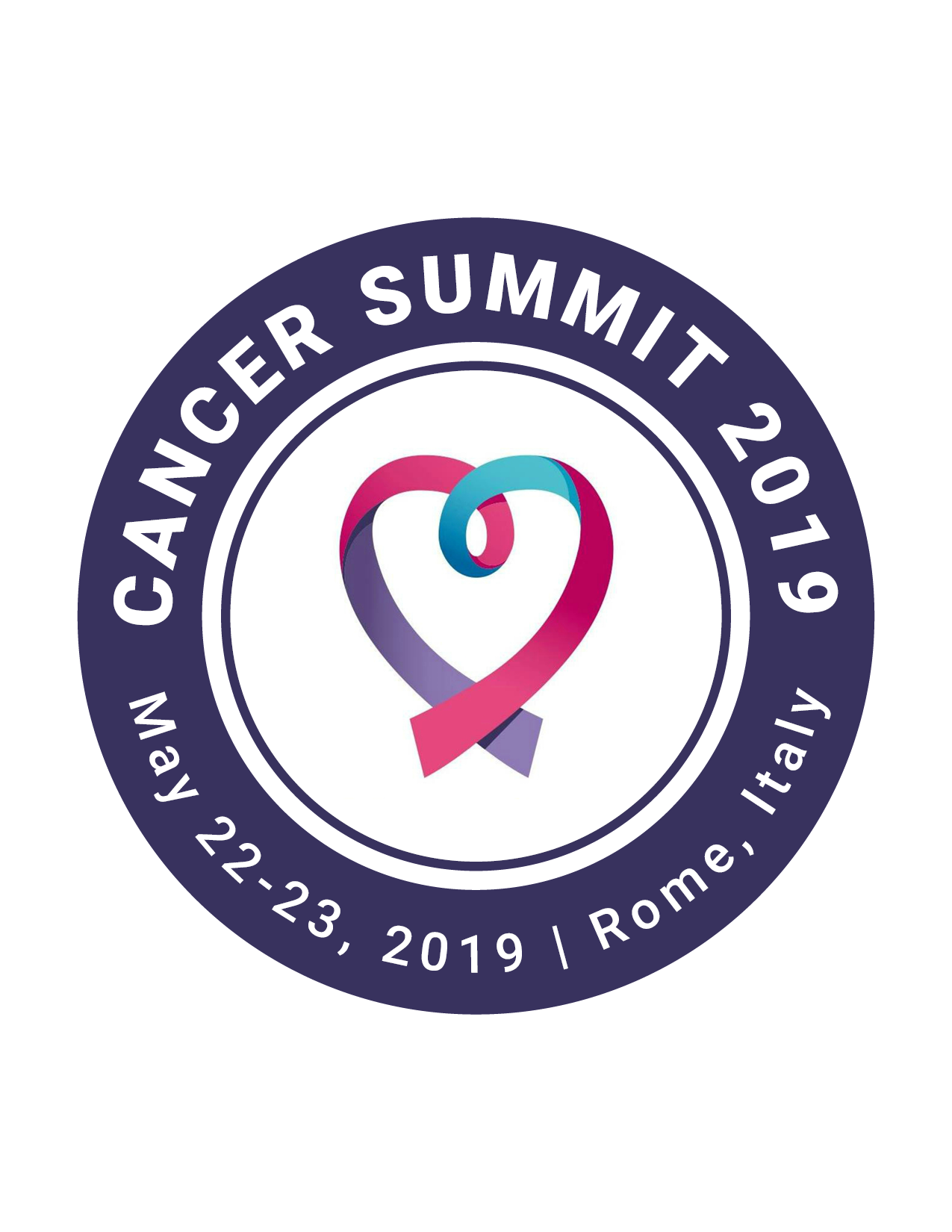 View a listing of all Cancer Summit sessions, events, and activities organized by date and time.
These sessions allow various communities to focus on specific topics of interest.
These offerings are most relevant to the interests of trainees.
Conference Policy and Conditions for swift planning.
Sessions
Session 1. Approaches to Cancer Therapy:
According to a recent study for the very first time in Europe, there has been a considerable reduction in age-standardized mortality for all cancers. The stats approve a drop from 147 to 136 per 100000 inhabitants per year. There are many factors account for this which includes preventive interventions, early diagnosis, advances in lifestyle and better treatments (some tumours). However, the pharmacological treatments are accountable for only a trivial portion of cancer cures, even though they are attributed to an upsurge of survival in certain cases.
Session 2. Oncology:
Oncology is a branch of medicine that deals with the prevention, diagnosis, and treatment of cancer. A medical professional who practices oncology is an oncologist. The name's etymological origin is the Greek word 'ónkos', meaning tumour, and the word 'logos', meaning speech.
The three components which have improved survival in cancer are Prevention – by reduction of risk factors like tobacco and alcohol consumption, Early diagnosis – screening of common cancers and comprehensive diagnosis and staging, Treatment – multimodality management by discussion in tumour board and treatment in a comprehensive cancer centre.
The Summit focuses mainly on:
Session 3. Organ Specific Cancer:

Cancer is based on the location of cancer cells occur in a particular organ. There are more than 200 distinct types of cancer diagnosed. Amongst them, Lung cancer, breast cancer is the most prevalent cancer diagnosed in 2015. Aside from this prostate cancer, colon cancers, bladder cancer, breast cancer are the most common type of cancer. The rare classes of cancers are which affect the bone known as Bone Cancer. Depending upon the location of cancer the aetiology, symptoms, and method of treatments vary. Carcinoma, Sarcoma, leukaemia, lymphoma, and melanoma are the types of cancer found in different organs.

• Haemato oncology
• Head & Neck Oncology
• Urological Oncology
Session 4: Melanoma and Other Skin Cancer:
Melanoma is one type of skin Cancer that arises when the melanocytes grow to be cancerous. It is a most common type of skin cancer but very serious if avoided. Melanoma, also called malignant melanoma, develops from the pigment-containing cells known as melanocytes. It typically occurs in the skin and rarely in the mouth, intestines, or eye. Individuals with low levels of skin pigment, when exposed to ultraviolet light, causes Melanoma. The use of sunscreen and avoiding UV light may prevent melanoma disease to a larger extent. Further treatment removal by surgery. Skin cancers majorly arise from the skin. They are mainly due to abnormal growth of the cells that have the ability to spread to all other parts of the body of an individual. Basal-cell skin cancer (BCC), squamous-cell skin cancer (SCC) and melanoma are the common types of skin cancer seen in most of the individuals. Among these three BCC and SCC are commonly known as non-melanoma skin cancer (NMSC). Thus the non-melanoma skin cancer can be easily cured.
• Merkel cell carcinoma
• Kaposi sarcoma
• Cutaneous (skin) lymphoma
• Skin adnexal tumours (tumours that start in hair follicles or skin glands)
• Various types of sarcomas
Session 5. Cancer Cell Biology:
Scientists today have a growing understanding of the biology of a vast array of cancers driven by myriad mutations and across many body sites. New data and research approaches have created opportunities for researchers to study in detail many aspects of cancer biology, including how the normal biological programs of cell proliferation and death are altered during cancer and how the immune system responds to tumours. The discovery of tumour stem cells in a range of cancers has created opportunities for researchers to identify these rare cells in both solid tumours and hematologic cancers, as well as to investigate the role of these cells at different stages of the disease.
• Tumor immunology and immunotherapy
• Tumor microenvironment and research
• Classification of Tumors
• Tumor progression, invasion, and metastasis
Session 6. Genetic Mutations & Cancer:
The human body is capable of correcting most of the mutations by itself. Mutations can either be beneficial or harmful based on the part of the body it gets affected. Hence we can conclude that mutations might not lead to cancer. During a lifetime it takes multiple mutations to cause cancer therefore cancer is more likely to occur in older people.
Session 7. Hereditary Cancer Syndromes:
Being a common disease, it comes as no surprise that many families may have at least a few members have had certain types of cancer. This might be because of certain behaviour or exposure, which in turn increases the risk of being affected. In a different case, cancers that run in families can be caused by an abnormal gene that is passed from generation to generation. This might be called as Hereditary or Inherited cancer, it might lead to cancer, not cancer itself. Only about 5% to 10% of all cancers are thought to result directly from gene defects (called mutations) inherited from a parent.
Session 8. Cancer Stem Cells:
Cancer stem cells were first identified by Scientist John Dick in acute myeloid leukaemia. Cancer stem cells (CSCs) are cancer cells (found within tumours or haematological cancers) that shows characteristics associated with normal stem cells, driven from tumorigenesis and gives rise to a large population of differentiated progeny that make up the bulk of a tumour, but lack tumorigenic potential, therefore they are Tumour forming. CSCs generate tumours through the stem cell processes of self-renewal and differentiate into multiple cell types. Oncology Meetings have to explore that, CSCs have recently identified in several solid tumours such as in Brain, Breast Cancer, Colon, Ovary, Pancreas, Prostate, Melanoma and Multiple Myeloma.
Session 9: Cancer & Pregnancy:
The risk of cancer during pregnancy is uncommon. It's found that health care providers and women were often unsure about how to deal with cancer during pregnancy. Due to more women with cancer starting or continuing treatment during we have more information about treating and living with cancer during pregnancy than ever before. Usually, cancer might not affect the growth of the baby directly, but according to researchers, it is keen that having cancer while pregnant can be complicated for the baby and the mother. Hence it is advisable to find a healthcare provider who has experience in treatment in this field.
Session 10: Stem Cells Immune systems and Cancer:
It is a field of research to innovate cancer immunotherapies to treat, prevent and stop the progression of the disease. The immune response, having the capacity of recognition of cancer-specific antigens, forms the basis of targeted therapy (like vaccines & antibody therapies) and tumour marker-based diagnostic tests. Cancer immunology is a branch of immunology that deals with the interactions of the immune system with cancer cells (also called tumours or malignancies). Oncology is a growing field of research that aims to discover innovative cancer immunotherapies to treat and retard the progression of the disease. Recent advances in our understanding of antigen recognition, presentation, and molecules involved in T and B cell activation, have provided new and excited immunotherapeutic strategies which can be used against the cancer cells or Tumors. Cancer is the major causes of morbidity and mortality worldwide and accounts for nearly 1 of every 4 deaths in the US.
Session 11: Targeted Cancer Therapy:
Through years of experimentation, researchers have learned the differences in growth and thriving of cancer cells. This has led to the development of drugs that 'target' these differences. Treatment with these drugs is called targeted therapy. Targeted therapy drugs, like other drugs used to treat cancer, technically are considered chemotherapy. According to research, targetted therapy drugs won't act the same way as standard chemotherapy drugs. But these drugs tend to have side effects different from standard chemo drugs.
Session 12: Nanomedicine and Cancer:
Cancer biomarkers are indicators produced by tumour cells spreading in the body and are commonly used in cancer detection. However, they are present in too low concentrations to be efficiently detected in early phases. However, the targeted delivery of specific nanoparticles into a tumour can induce a local interaction with cancer cells and forces them to significantly increase the production of these biomarkers. Biomarkers detection becomes thus much easier and can provide an earlier diagnosis to doctors than biopsies. Early detections of cancers allow early and less burdensome treatments, increasing also the chances of recovery.
Session 13: Alternative Treatment and Cancer Therapy:
Cancer can be treated by many methods, such as surgery, chemotherapy, hormonal therapy, radiation therapy, targeted therapy and synthetic lethality. People suffering from cancer can be investigated through medical tests. These commonly include blood tests are X-rays, CT scans, and endoscopy. The tissue diagnosis from the biopsy indicates the type of cell that proliferates, through its histological grade, genetic abnormalities, and other features. Thus all together it gives the user information about molecular changes such as mutations, fusion genes, and numerical chromosome to estimate or show the prognosis and to choose the best treatment. Cytogenetic and immunohistochemistry are other common tissue tests. The removal of cancer without damaging the other parts of the body (by achieving cure with near-zero adverse effects) is the main goal of treatment. The type of treatment depends on the type of cancer the patient is suffering from and how advanced it is. For most people, they have a combination of treatments, such as surgery with chemotherapy (use of drugs to kill cancer cells) or radiation therapy. Immunotherapy, targeted therapy, or hormone therapy are another kind of treatment for cancer.
Session 14: Cancer Bioinformatics:
Cancer is the most common causes of patient death in the clinic and a complex disease occurring in multiple organs per system, multiple systems per organ, or both, in the body. The poor diagnoses of therapies and prognoses of the disease can be mostly due to the variation of severities, durations, locations, sensitivity and resistance against drugs, cell differentiation and origin, and understanding of pathogenesis. Cancer bioinformatics is a critical and important part of the systems clinical medicine in cancer and the core tool and approach to carrying out the investigations of cancer in systems clinical medicine. Cancer bioinformatics is expected to play an important role in the identification and validation of biomarkers, specific to clinical phenotypes related to early diagnoses, measurements to monitor the progress of the disease and the response to therapy, and predictors for the improvement of patient's life quality.
Session 15: Cancer Staging:
Majorly cancer staging can be divided into a clinical stage and pathological stage. In the Tumor Node, Metastasis system, clinical stage and pathologic stage are denoted by a small "c" or "p" before the stage. This staging system is used for most forms of cancer, except for brain tumors and haematological malignancies. Clinical stage is based on all of the available information obtained before a surgery to remove a tumor. Thus, it may include information about a tumor obtained by physical examination, blood tests, radiologic examination, biopsy, and endoscopy. Pathologic stage adds additional information gained by examination of a tumor microscopically by a pathologist after it has been surgically removed. Since there is a usage of various criteria there can be a difference between clinical stage and pathological stage.
Pathologic staging is usually considered to be more accurate because it allows direct examination of a tumor in its entirety, contrasted with clinical staging which is limited by the fact that the information is obtained by making indirect observations of a tumor which is still in the body. However, clinical staging and pathologic staging often complement each other.
Session 16: Cancer Pain Management, Survival and Awareness:
Cancer pain treatment purposes to release pain with slight adverse treatment effects, allowing the person a good quality of life and level of function and a relatively painless death. Though 80-90 per cent of cancer pain can be controlled, half of the people with cancer pain in the developed world and more than 80% of people with cancer worldwide receive less than best care. Cancer changes over time, and pain managing needs to reflect this. Some different types of treatment may be required as the disease progresses. Pain managers should clearly explain to the person the cause of the pain and the various treatment possibilities and should consider, as well as drug therapy, directly modifying the underlying disease, raise the pain threshold, interrupting, destroying or stimulating pain pathways, and suggesting lifestyle modification. Cancer survival rates vary by the type of cancer, stage at diagnosis, treatment was given and many other factors, including country. Survival rate can be measured in several ways, median life expectancy having advantages over others in terms of meaning for people involved, rather than as an epidemiological measure.
Session 17: Cancer Pharma Industry:
Cancer is one of the greatest health challenges and a leading cause of death in every corner of the world. The global market for Cancer drugs is predicted to grow twice as fast as that of other pharmaceuticals over the next few years. Top companies include Janssen biotech, Takeda oncology, Boehringer Ingelheim, Roche, Novartis, Celgene, Johnson & Johnson, and Amgen. The cancer industry is the most commonly valuable business in the USA. It has been noticed that there are 1,665,540 new cancer cases diagnosed and 585,720 cancer deaths in the US in the year 2014. $6 billion of tax-payer funds are cycled through various federal agencies for cancer research mainly as the National Cancer Institute (NCI). The NCI states that the medical costs of cancer care are $125 billion, with the rise of 39 per cent to $173 billion by the upcoming year that is 2020. The most common motto of the cancer industry is it employs too many people and produces too much income to allow a cure to be found.
Market Analysis
Importance & Scope

Cancer Summit 2019 will cover an entire spectrum of cancer containing prevention, diagnosis and treatment, toxicities of therapy, supportive care, quality-of-life, and survivorship issues in the field of Cancer. It will include the use of novel technologies, both in the arena of diagnosis and treatment in the fight against this dreadful disease. This conference will provide clinicians and researchers with a platform to disseminate their personal experiences to a wider public as well as to know interesting cases encountered by colleagues all over the world.
Worldwide:
Irish Cancer Society

Cancer Research UK

Peter McCollum Cancer Centre

Cancer Society of New Zealand

American Society of Clinical Oncology (ASCO)

International Agency for Research on Cancer (IARC)

American Association for Cancer Research (AACR)

International Cancer Research Partnership (ICRP)

National Cancer Institute (NIC)

The European Cancer Organization (ECCO)
Hospitals associated with Cancer:

3. USA:
New York Presbyterian Hospital

Memorial Sloan Kettering Cancer Center

Mayo Clinic Rochester

MD Anderson Cancer Center, Texas

John Hopkins Hospital, Baltimore

University of Washington Medical Center

Massachusetts General Hospital

UCSF Medical Center

UCLA Medical Center

Stanford Hospital
The pace of change in cancer care is accelerating. A cluster of innovative treatments, often combined with other new or existing medicines, and frequently associated with biomarkers, are emerging from the research and development pipeline.
Over the past five years, 70 new oncology treatments have been launched and are being used to treat over 20 different tumour types.
Annual global growth in the oncology drug market is expected to be 7.5 - 10.5 % through 2020, reaching $150 billion. Wider utilization of new products especially immunotherapies will drive much of the growth, offset by reduced use of some existing treatments with inferior clinical outcomes.
Oncology drug costs relative to total drug costs range from 2.5% in the case of India to almost 16% in the case of Germany and France. In the U.S., cancer drugs account for 11.5% of total drug costs in 2015, up from 10.5% in 2011.
The total cost of cancer therapeutics and medicines used in supportive care-measured at the ex-manufacturer price level before the application of rebates or other price concessions - reached $107 billion in 2015, representing an increase in constant dollars of 11.5% over the prior year.